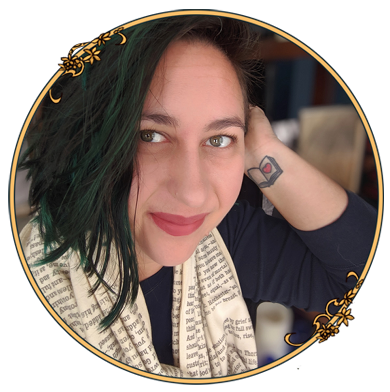 Carly Hayward
Chief Developmental Editor & Founder
Carly is a developmental novel editor who helps authors find their voice and bring their book to light. Editing combines her love of reading, giving advice, and logic puzzles. She will be your book's best friend.
With 10+ years in publishing, she's worked all over the industry, including at a big 5 publishing house, a small press, a hybrid publisher, and a literary agency. That experience has helped her to see the industry from all different angles. She is a co-founding Revise & Resub (#RevPit) editor and a host on Story Chat Radio, a writing advice podcast. She is a member of the Editorial Freelancers Association and ACES.
When not reading or working she lounges with her husband being vastly amused by their cats or binge-watching TV.
Pronouns: She/Her
Specialties:
Carly specializes in adult, young adult, and middle grade age categories. She particularly focuses on fantasy, science fiction, romance (all heat levels), historical, and mystery genres. She is open to other genres on an individual basis.
Laura Dennison
Copyeditor
Laura has worked as a professional editor for 3 years. She has experience in both content and copyediting. Her copyediting services offer authors one crucial final set of eyes on their manuscript before being sent out—whether to an agent or for indie publication. Her goal is to help you produce a polished piece that you can be just as sure of as you are proud of.
She holds an MFA in Nonfiction from the Mountainview low-residency program, where she wrote a coming-of-age memoir under the mentorship of published authors and exstensively studied craft and publishing. She graduated from the University of New Hampshire magna cum laude with a BA in English. There, she focused her studies on print journalism, news editing, and fiction and nonfiction writing.
Pronouns: She/Her
Specialties:
Laura's specializes in YA and NA novels. She also loves editing coming-of-age stories, memoirs, and nonfiction essay collections. She does not edit horror, as she's easily spooked, but is open to all other genres and manuscripts that deal with heavier subject matters.
Jessica Nelson
Copyeditor
Jessica has been a professional editor for 7 years, working with both traditionally published and indie authors. She loves the cadence and texture of the written word, and she will help you smooth away embarrassing errors that can derail a scene.
After earning a BA and MA in English, Jessica worked in higher education communications for several years before pursuing editing, the career she had always wanted. Many of her indie clients have gone on to win awards and secure publishing contracts, but she believes the strongest recommendation is the clients who have worked with her again and again over the years. She is a member of the Editorial Freelancers Association and is a four-time judge for the InD'Tale RONE awards.
When she isn't editing or writing, she can be found starting (and occasionally finishing) art projects or binge-watching something. Jessica lives in the American South with her husband, two children, and a fluffy brindle dog who probably believes she's human.
Pronouns: She/Her
Specialties:
Jessica edits adult, YA, and middle grade fiction. She particularly welcomes science fiction and fantasy, romance (all heat levels), and historical fiction. She does not edit non-fiction but is open to other fiction genres.
Kel Lyle
Social Media Assistant
Kel is Book Light Editorial's social media assistant, searching for the best way to deliver writing tips to fellow authors. When she's not spreading Book Light Editorial's wisdom, she's juggling too many drafts, gazing at blank word documents, and falling into the trap of endless revision (just one more round and it'll be perfect, right?) She lives in the Pacific Northwest and relishes in warm beverages on rainy days.
Pronouns: She/Her
Find your Book's Best Friend
"I met Carly the same day I saw Mad Max Fury Road, so she'll forever be linked in my mind to Furiosa—someone you absolutely want on your side! With Carly's guidance, I turned my pretty okay novel into something so much more—something alive. I always felt she loved my characters as much as I did; she simply got what I was trying to do, and helped me do it. I have no doubt that my book (and hopefully the many to come) is vastly improved by her involvement."
-Kim Alexander, International best-selling author of The Demon Door series